Di era yang serba online seperti sekarang, masih banyak masyarakat yang memanfaatkan fasilitas offline seperti warung pintar untuk membeli kebutuhan sehari-hari. Tak heran kalau di kota besar sekalipun, kita masih akan melihat banyak warung yang tersebar di pinggir jalan.
Founder: Agung Bezharie, Harya Putra, Sofian Hadiwijaya, Pandu Kartika Putra
Industri: platform bisnis warung modern
Status pendanaan: tidak disebutkan
Beberapa sosok tersohor di dunia startup Indonesia, seperti Agung Bezharie (mantan Investment Associate East Ventures) dan Sofian Hadiwijaya (mantan VP of Business Intelligence GO-JEK), bergabung dalam Warung Pintar.
Warung Pintar menyediakan solusi menyeluruh (seperti pencarian lahan usaha hingga kebutuhan dana) bagi orang yang ingin memulai bisnis warung, serta platform untuk berinvestasi kepada pemilik warung.
Selain itu, Warung Pintar juga melayani para pengusaha warung melakukan modernisasi bisnis, seperti:

Akses ke barang kebutuhan sehari-hari dengan harga lebih murah,
Melengkapi infrastruktur warung dengan beragam perangkat elektronik,
Pemanfaatan software guna menunjang usaha,
Memungkinkan warung menjual barang digital,
dan lain-lain.
"Di Jakarta sendiri, terdapat lebih dari 50.000 warung pada tahun 2014. Berdasarkan penelitian yang kami lakukan, satu warung rata-rata menghasilkan pendapatan sekitar Rp1,5 juta per hari," ujar Harya Putra, mantan Expansion Head dari co-working space EV Hive.
Melihat hal tersebut, perusahaan modal ventura East Ventures berinisiatif membuat sebuah perusahaan yang bisa meningkatkan kualitas warung tradisional dengan bantuan teknologi. Perusahaan tersebut diberi nama Warung Pintar.
Kamu pun bisa menjadi investor dan memberikan pendanaan kepada orang-orang yang berniat mendirikan warung.
Perusahaan ini pun menjadi perusahaan independen kedua yang dibuat oleh East Ventures. Sebelumnya, mereka membuat startup co-working space EV Hive.
Warung Pintar sendiri merupakan solusi end to end yang bisa membantu kamu mencari lahan dan dana untuk membuka warung baru. Lewat platform yang mereka sediakan, kamu pun bisa menjadi investor dan memberikan pendanaan kepada orang-orang yang berniat mendirikan warung.
Sedangkan untuk warung yang sudah beroperasi, Warung Pintar bisa memberikan bantuan seperti berikut:
Akses mudah ke berbagai produk kebutuhan sehari-hari dengan harga yang murah
Bantuan aktivitas promosi untuk meramaikan warung, seperti promo dan acara nonton bareng
Renovasi warung dengan infrastruktur seperti fasilitas charger smartphone untuk pengunjung, layar LCD, hingga kamera CCTV
Pelatihan dan pendampingan untuk penggunaan software untuk mencatat stok dan mengelola keuangan
Memungkinkan warung untuk menjual produk digital, seperti tiket pesawat, tiket kereta api, pulsa, hingga barang-barang yang dijual di e-commerce
Tim yang berpengalaman dari East Ventures, GO-JEK, hingga Code4Nation
Warung Pintar dioperasikan oleh tim yang telah berpengalaman di dunia startup. Di posisi CEO ada Agung Bezharie yang pernah menjadi Investment Associate di East Ventures, sedangkan di posisi COO ada Harya Putra.
Mereka pun menggandeng Sofian Hadiwijaya, yang berpengalaman sebagai Technology Evangelist Kudo, co-founder Pinjam, serta VP of Business Intelligence GO-JEK. Selain itu juga ada Pandu Kartika Putra, yang aktif di Code for Bandung dan Code4Nation.
Hingga saat ini, mereka telah mempunyai delapan warung yang tersebar di Jabodetabek.
"Warung Pintar merupakan jawaban dari istilah New Retailer," ujar Willson Cuaca, Managing Partner dari East Ventures, "mereka menawarkan bentuk kerja sama berupa kemitraan dengan pemilik warung, di mana para pemilik hanya perlu memberi komitmen, kejujuran, serta waktu mereka untuk memperbaiki warung sewaktu-waktu dibutuhkan."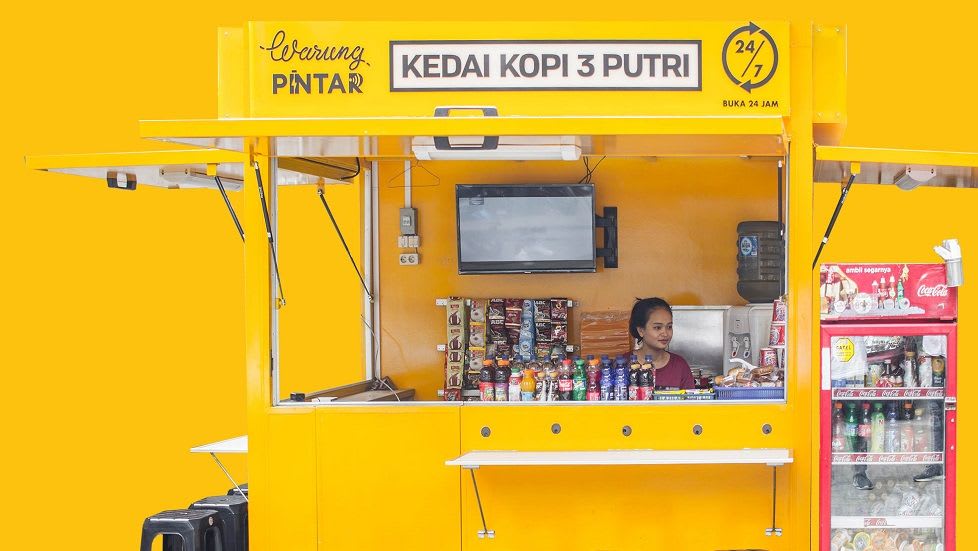 Untuk mendukung Warung Pintar ini, East Ventures pun akan memanfaatkan para portofolio mereka. Contohnya dengan menggunakan:
Moka POS sebagai aplikasi kasir
Jurnal sebagai aplikasi pencatatan keuangan dan akuntansi
Kudo sebagai platform penjualan tiket, pulsa, dan barang-barang yang dijual di e-commerce
Do-Cart untuk pengadaan produk dan distribusi
Waresix untuk sistem distribusi gudang