Di tengah berkembangnya bisnis rental mobil karena pesatnya permintaan pasar yang terus bertambah, mulai dari rental mobil untuk kebutuhan pernikahan, bisnis bahkan untuk liburan sedangkan untuk melakukan penyewaan mobil pada saat ini umumnya tidak melayani booking mobil secara online, penyewa diharuskan untuk menghubungi perusahaan rental mobil terlebih dahulu untuk melakukan booking mobil ditambah lagi jika ingin membandingkan harga, penyewa diharuskan untuk menghubungi satu persatu perusahaan rental mobil untuk menemukan harga yang cocok, sangat tidak praktis.
Nemob hadir untuk menjawab segala kebutuhan penyewaan mobil baik untuk kebutuhan pernikahan, bisnis bahkan untuk liburan, nemob adalah sebuah marketplace yang menghubungkan penyedia rental mobil dengan penyewa. Di nemob memungkinkan untuk menemukan penyedia rental mobil dan jenis mobil sesuai dengan kebutuhan masing-masing penyewa.
Jasa yang di tawarkan oleh nemob adalah rental mobil online dimana penyewa dapat melakukan booking kapanpun dan dimanapun mereka berada. Pada saat ini inventory mobil yang ada di nemob di isi oleh perusahaan rental mobil yang sudah berbadan hukum, kedepannya setiap orang yang mempunyai mobil dapat mendaftarkan mobil mereka untuk disewa tentunya ini membuka peluang untuk mencari penghasilan tambahan, nemob ingin memberikan kesempatan kepada mereka yang ingin memonetisasi mobilnya.
Dirilis pada pertengahan November, Nemob mempunyai tujuan untuk mempermudah masyarakat Indonesia dalam menyewa mobil secara online. Sampai saat ini dapat dikatakan belum ada layanan sewa mobil yang terintegrasi melalui smartphone berbasis Ios dan Android kecuali Nemob. Itu adalah hal yang pertama mengapa Nemob berbeda dengan layanan sewa mobil lainnya. Metode pembayaran yang berada di Nemob begitu flexibel, Kami menggandeng Midtrans (dulu veritrans) sebagai payment gateway untuk mengakomodir pembayaran via credit card, maupun bank transfer sehingga memudahkan penyewa untuk bertransaksi di Nemob.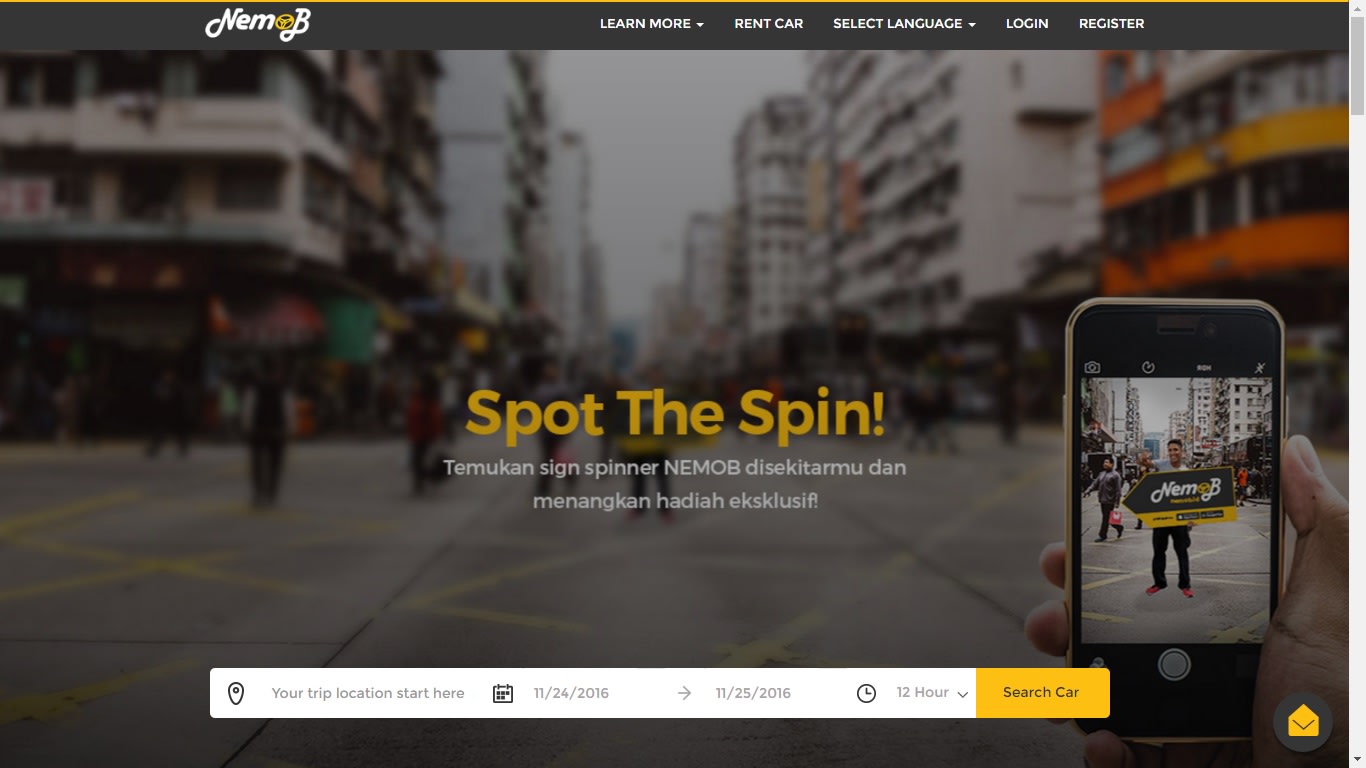 Inventory mobil yang berada di Nemob sangat beragam, dari mobil antik sampai minibus, sehingga memudahkan penyewa dalam menyewa mobil yang sesuai dengan kebutuhan. ada 9 kategori yang dapat ditemukan di Nemob untuk mengklasifikasi mobil berdasarkan kebutuhan penyewa, diantaranya:
Gas Saver = fuel efficient / mobil – mobil hemat bahan bakar
Business = all cars that fits to lift up your image / mobil – mobil yang dapat menaikan citra penyewanya
Adventurer = all cars that fits for heavy road / mobil – mobil yang pas untuk jalanan yang berat
Family Friendly = 7 Seats MPV that fits for whole family / mobil – mobil dengan kapasitas 7 orang
Limousine = Classy cars drive by the best driver / mobil besar dengan layanan VIP dan supir terbaik
Wedding = all cars fit for wedding needs / mobil – mobil yang cocok untuk pernikahan
Antique = all cars produce before 1980 / mobil – mobil klasik yang diproduksi sebelum tahun 1980
Group = over than 7 seat capacity for a large group. / mobil minibus dengan kapasitas lebih dari 7 orang
Super Car = The car of your dream. / mobil – mobil sport yang mewah
Area coverage Nemob saat ini meliputi Jakarta, Bandung & Bali. target Nemob pada pertengahan tahun depan layanan Nemob akan meliputi semua kota di Indonesia. Sekarang tidak perlu dipusingkan lagi dalam menyewa mobil karena di nemob bisa melakukan penyewaan mobil kapanpun dan dimanapun.